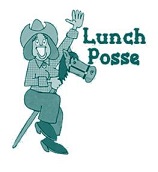 4th Thursday (year-round excluding Dec.)
1:30 pm
Meets at restaurants that have donated to the branch's Holiday Brunch fundraiser
Lunch Posse Chairperson:
Diane Grubel
aauw.vancouver.info@gmail.com

The Lunch Posse gets together at 1:30 p.m. on the fourth Thursday of each month, excluding December. The group includes all branch members available to gather at a specific restaurant as designated by the chairperson.
These restaurants are the biggest contributors of gift cards to the branch's Holiday Brunch fundraiser. The Lunch Posse participants have a good meal, a chance to visit with other AAUW members and their guests, and the opportunity to say thank you to the donor restaurants.
An email is sent to branch members each month reminding them of where the Lunch Posse will be gathering and asking them to RSVP to provide a head count for the reservation.
A new list of restaurants, by month, for the coming calendar year is published in the January newsletter.